Our squad is complete and ready for new season, we have some new players, some old players and legendary players too! I think it's good to know them all, so I plan to post some information (and a LOT of photos) about our blaugrama's boys. I hope you will like it. One more important thing: I will concetrate on players' personal stuff, I don't want to write about all profesional detail of career or sport issues, because you can find such information everywhere in Internet.
So let's start with our No.1
Víctor Valdés Arribas
(view his official profile on club's website-click)
He's 1.83 m tall and weighs 78 kg, and is the third captain of Barcelona, having risen up from the ranks of La Masía
Personal profile
A cologne: Chanel's Allure.
A car: Audi.
A watch: Rolex.
A pending trip: Maui, in Hawaii.
It embarrasses you to… draw crowds.
A politician: I don't identify myself with any of them.
I envy women for… what they give out.
A historical person: Gandhi.
You would go have a beer with… Mick Jagger.
What kind of work wouldn't you like to do? Politician.
Books, cards or videogames: I'm very much into movies and the Internet.
Can you recommend me a food shack on the beach? Any one in Gavà Mar.
What gets on your nerves? A day off without any wind.
Do you remember what was your first kiss like? Yes, it happened when I was 10.
What do you play on Play? I don't play it.
Nesquik or Cola Cao? Nesquik, every night.
How many watches do you own? One for every important title that Barcelona has won.
What were your first boots like? Silver Patricks that my father gave me. They were like the ones worn by Laudrup.
Who did you ask for an autograph when you were a kid? De La Peña, in La Masía.
What is your dog's name? Oto.
Which player has kicked you the most? Puyol, but more hits than kicks.
What's the last TV series you've become addicted to? Sons of Anarchy. It's fantastic.
How many diapers have you changed in your life? Some…
Sports profile
A goal: One of Hagi's with Barcelona at the Balaídos.
A football genius: Iniesta.
What do you see yourself doing in South Africa? Touching that beautiful cup with my teammates.
A coach: Pep Guardiola.
First stadium that you went to: Camp Nou.
A teammate that was on the road to stardom but didn't make it: Roberto, a boy from Barça that went to Mallorca.
Your first ball: A pink, plastic one.
A game of Spain's: Tomorrow's.
Your first kit: A green and black goalkeeper's kit.
A stadium that you would like to play in that's not your team's: the Sánchez Pizjuán.
The best player of all time: Now it's Messi and Iniesta. Of all time, Zidane.
(all Q&A are from interviews for Marca, El Pais, English translation thanks to
conlaroja.wordpress.com
)
Amd now it's photo time! Warning: a LOT of great photos!
Let's start with this cute photo, look at his hair!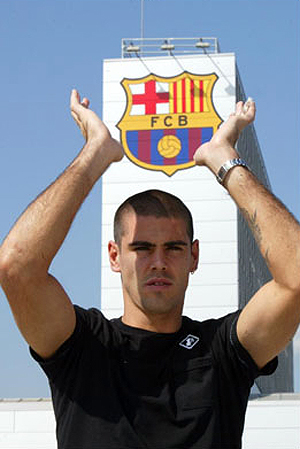 As you probably know, Victor has son Dylan, here is photo
And cute little niece Andrea, who participated in celebrations at Camp Nou last year.
Is this enuogh about Victor? No!
There is nice song about Victor called "Victor Valdés (el numero uno)"
And there is also chant "oee oe oe oeeeeeee VICTOR VALDES!"
And great video about Victor and his career (first part with English subs)